Launch eCommerce website for boutique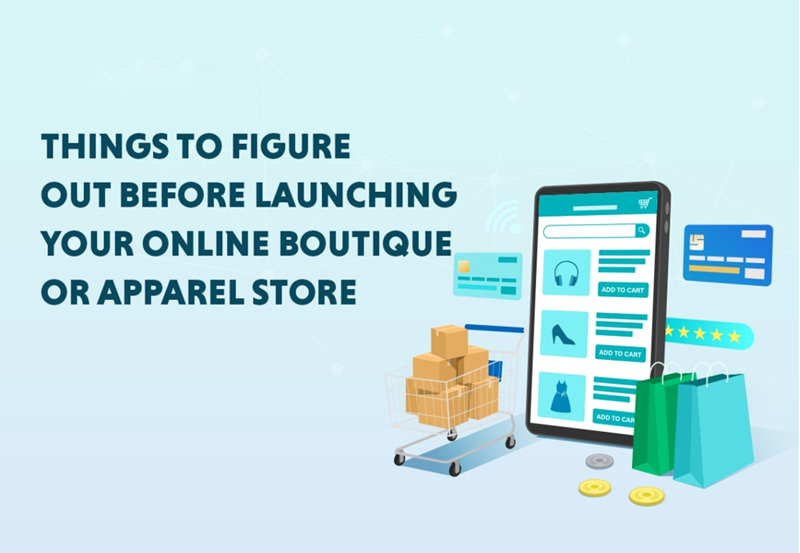 If you are passionate about fashion trends, well-being and clothing style then having your own boutique or apparel store might be a great decision. But having an online ecommerce store will be the golden bird that will take your business to far locations and make the boutique steadily climb the ladder of success. Previously it was quite hard for small scale boutiques or online stores to fight against the giants of the apparel business.
But now the dynamics have changed and it's not highly difficult to compete against the category leaders even if your business is much smaller. The most powerful weapon that new boutique and apparel stores can have is the digital weapon of an e-commerce website. For beginners who are in love with fashion, style and clothing but are having doubts about the profit and demand they should be aware that the value of ecommerce apparel sales has grown to a hundred billion in the US for the year 2021. For the year 2022, much better growth is expected and as per the statistics, there won't be any decline in the sales graph.
There are many boutiques or apparel businesses existing today which do not even have a physical store but still, their business is flourishing and making an impact in the fashion and clothing industry just through their premium quality ecommerce website. Online shopping is being preferred by a huge number of people when given an option between physical store browsing or shopping online. Sometimes it becomes much easier for boutique owners if they have only the e-commerce platform instead of having a physical store.
But having an e-commerce website too requires lots of planning and organizing. It won't be possible for you to create or launch an ecommerce website on your own, you will need a professional e-commerce website building organization if you want to have a robust eCommerce system up and running. There are various platforms and organizations that create e-commerce websites but you should be looking for someone who specializes in creating innovative and unique websites for several categories. When it comes to creating stunning e-commerce websites with a prime focus on the niche of business.
The Planning and Process needed for getting your e-commerce apparel or boutique started
If you are here reading this then it can be predicted that you are already having an idea of having your own e-commerce platform for a boutique or apparel store. But you need to find out other details as well in order to have a more clear idea about exactly what kind of boutique or apparel store you would be loving to have.
Deciding on the prime category of products is one of the big decisions you need to make. By finding the niche you are most passionate about and identifying the problems and gaps in the already existing online space of boutiques or apparel can make the path to launching your ecommerce store much easier. The other requirements of process and planning required to launch your e-commerce store are as follows:
Market Research and Market Analysis for your Boutique or apparel website- The in-depth analysis you do regarding the online and physical businesses present in the Boutique or Apparel category increases the possibility of your business becoming highly successful. It is also important to find the categories of Boutique or Apparel which are present in abundance and have the highest amount of competition. It would be the right decision to pick a specific category of Boutique or Apparel store which are having less competition but is going to have demand if reached out to the customers in the right way.
After identifying your products and learning about them in a detailed pattern will not only make your knowledge better but also help in engaging with your customers with a superior level of connection with them. When you will be finally choosing the products and have a better knowledge about your online store's features make sure you choose products or categories which won't have demand and might not solve an existing problem in the dedicated market of Boutique or Apparel stores.
It becomes an added advantage if you can find unique products of great quality which are not available in the other Boutique or Apparel stores. Try to look for products that are excellent in every feature but haven't been offered through any other ecommerce platforms in the Boutique or Apparels category. One of the amazing tips from experts is to always look for products that you will be comfortable using on your own and products that are not to be found very easily.
Coming up with an innovative name and a brand logo for your Apparel store or Boutique- Before figuring out the brand name you should be knowing the factors which need to be considered in deciding the name, logo and tagline. The business name should be always kept simple, easy to spell and easy to remember. You should also be checking the market if any other businesses exist with the same name or a very similar one.
It is not mandatory but if the name is somehow connected to the category of business, less stress falls into the marketing and branding. The logo also has the same factors to be considered which are going to be the face of your Boutique or Apparel Business. The tagline also needs to resonate not only with your passion but also with the visitors of your ecommerce website. The website should also hold context in your own voice which would convey the authenticity and the purpose of the brand.
Written Business Plan and Price analysis- The process of a written business plan is executed mostly when the entrepreneur is going to seek funding. So if you are planning to pitch to different investors or going to request a business loan in a bank then getting your Business Plan ready in an organized format will be a crucial task. A Business Plan yields extra benefits when the business will be mostly online through a high-quality e-commerce website.
When you will be writing about the business then it will also be much easier to find any faults which might not be practically feasible. The other objectives of a written business plan are to strategize the business policies along with the identification of potential resource requirements in order to have a functioning business. Just like daily journaling the Business Plan documentation will be quite similar in terms of benefits. The Price of each product will be a task which you need to analyze sensitively.
The margin between cost price and selling price point shouldn't be made extremely low for competitive fear as this might harm the business growth and expenditure management. The daily business purpose expenditure might be less in comparison to a physical store but there does remain unavoidable costs like sales tax, website maintenance, inventory charges and even shipping costs.
Figure out the discount strategies as well which you are going to use in the long term. Experts do suggest taking the maximum retail price of your product very seriously. If you already launch your products with a very low margin of profit and set the retail price exactly in that format then later on customers might get offended if you offer no discounts throughout the year or you somehow change the maximum price points of selling.
The business model and the shipping procedure knowledge- Nowadays you will have options to choose the ways in which your business would be operated. Your boutique or apparel business might also stand on the unity of more than one kind of business model. The planning of your business model mostly involves deciding the ways you will be selling that involves the creation of products or sourcing of products to be sold and delivered directly to any customer.
The Reselling model would be implemented if you are planning to have a boutique or apparel store that is going to source products of other popular brands through a wholesaling medium and then use the e-commerce store to provide it to the customers. If you are planning on making your own products then it might be a little more complicated because you might have to get an overseas manufacturer or choose dropshipping methods.
When you will be sourcing your products from local producers then you need to have a strong point of product channelling along with a sturdy packaging and shipping team. Many new Boutique or apparel stores also choose the method of "make on-demand" which means the products get manufactured after an order gets placed for it and most of the time this model has a longer delivery time than other business models.
Along with a strong enterprise-level e-commerce website, you will be able to host and execute several models together. Be sure to have checkups often on the products which get supplied by the local producers even after you hire them and make a contract deal. Convincing the local producers or manufacturers is also not an easy task, you need to treat them in the same way you would have treated large investors.
The Prime Task of Launching your Online Website
The Boutique or Apparel e-commerce website you are going to launch needs to be through a reliable medium. You might want to consider other ecommerce website building platforms but they won't be able to provide the direct interactions and low investments that some rare platforms will be able to offer passionate entrepreneurs.
These rare platforms will be able to produce an innovative website for your Boutique or Apparel business that will be able to attract and engage with customers very efficiently. Having your own e-commerce website is going to be much different from selling products on a third party website pooling different products from varying businesses. When selling through a channel that belongs to a different owner not only cuts a huge chunk out of your sales money but also makes you abide by many typical rules.
After you launch your very own e-commerce website there would be many times in the future that changes would be required in your online Boutique or Apparel store. So you need to get your website built by a platform like who will be able to maintain or make necessary changes to your website whenever required. The modern e-commerce website does require to get integrated along with various business tools in order to become interactive and much smarter in collecting several kinds of data.
Through the independent website creating platform, you will be able to bring your ideas of an amazing Boutique and Apparel store alive. The whole process from the beginning to the time of website launch is very smooth in independent platforms and the entrepreneur's views are always considered with utmost importance at all times. The e-commerce platform can open a global forum for you where you will be able to get customers all around the world.
Endnote for New Entrepreneurs
Nowadays launching your e-commerce website is not at all complicated and can be made in a very short duration. When you choose an independent platform for creating your amazing website then the whole process doesn't seem overwhelming and confusing. Through the power of self designing platform you will be capable of creating the ideal websites for your Boutique and Apparel store that will be found stunning and attractive by all customers.
The products also will be listed in an amazing setup that will showcase the features and dimensions of the products perfectly. Just indulge in a conversation with the expert team of rare creative platforms to not only clear your doubts but also to have a new team of friends.